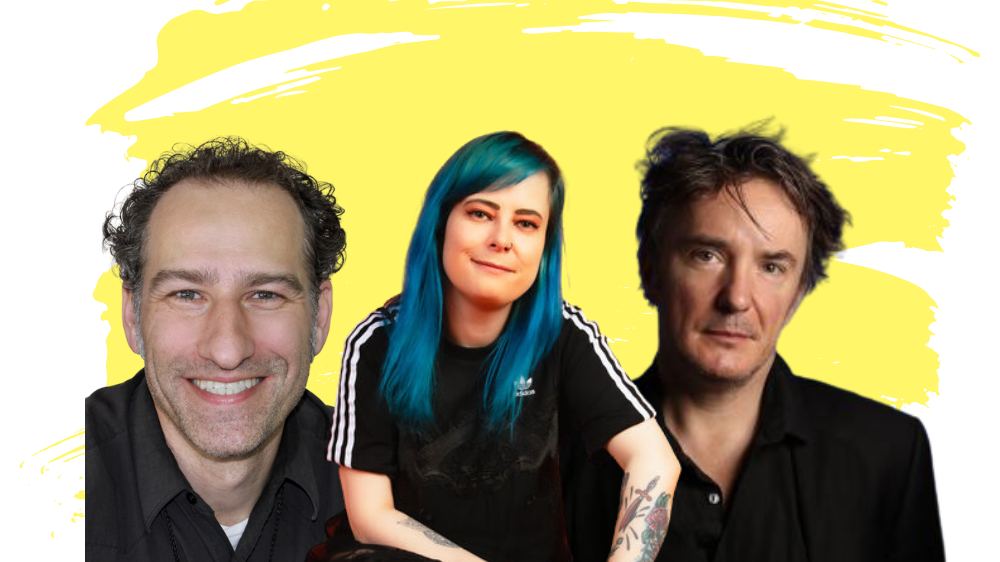 Cartoons and Stand Up Comedy – Dylan Moran & Matt Diffee in Conversation with Aoife Dooley
BAFTA and Perrier award winning comedian Dylan Moran, joins one-time stand up comedian and New Yorker cartoonist, Matt Diffee to discuss the foibles of writing for stand up and writing for cartoons with fellow stand up comedian and cartoonist Aoife Dooley.
Speakers
Aoife Dooley

Aoife Dooley

Aoife Dooley is an award winning illustrator author and comedian. She is also a graphic designer and public speaker. She is best known for her Your One Nikita series which follows the life of a 22 year old woman and her friends from Coolock. She published two books with Gill books based on Nikita in 2016 and 2017 'How To Be Massive' and 'How To Deal With Poxes'. In 2018 Your One Nikita came to screens in an animated tv series for the RTE Player animated and produced by Digital Beast. She has spoken at a number of events including Offset, Zeminar, Creative Events and more. She was a regular panellist on the Elaine show on Virgin Media and has experience with both live tv and radio. Aoife has also performed at festivals such as Vodafone Comedy Festival, Body & Soul, Electric Picnic and more. In 2017 she won U Magazines 30 under 30 award for best comedian.

Dylan Moran

Dylan Moran

Dylan Moran is a renowned Irish comedian who has entertained audiences for years. His very successful comedy shows include DR COSMOS; YEAH, YEAH, YEAH; WHAT IT IS; LIKE TOTALLY; PONCIN' ABOUT and GURGLING FOR MONEY. He made his acting debut in Roger Mitchell's NOTTING HILL, in which he played the cameo role of Rufus the book thief opposite Hugh Grant. Dylan went on to star in SHAUN OF THE DEAD, directed by Edgar Wright, and RUN FAT BOY RUN, directed by David Schwimmer, which also co starred Simon Pegg, Nick Frost, Hank Azaria, and Thandie Newton. Dylan's other Film and Television credits include; COCK & BULL STORY, directed by Michael Winterbottom; TELL IT TOO THE FISHES, directed by William Sinclair; A FILM WITH ME IN IT, directed by Ian Fitzgibbon; and BLACK BOOKS (Series 1-3) in which he played the role of Bernard Black.

Matt Diffee

Matt Diffee

Matthew Diffee has been contributing cartoons to The New Yorker since 1999. His work has also appeared in Time, The Huffington Post, The Believer and Texas Monthly magazines. He is the editor of three volumes of "The Rejection Collection: Cartoons You Never Saw and Never Will See in The New Yorker" published by Simon & Schuster. He's done illustration work for bands like the Punch Brothers and for a special collector's edition of Stephen King's novel "Under the Dome." Last year Diffee received the Silver Reuben Award for best single panel cartoonist of the year and was recently named Chairman of the Los Angeles Chapter of the National Cartoonists Society.