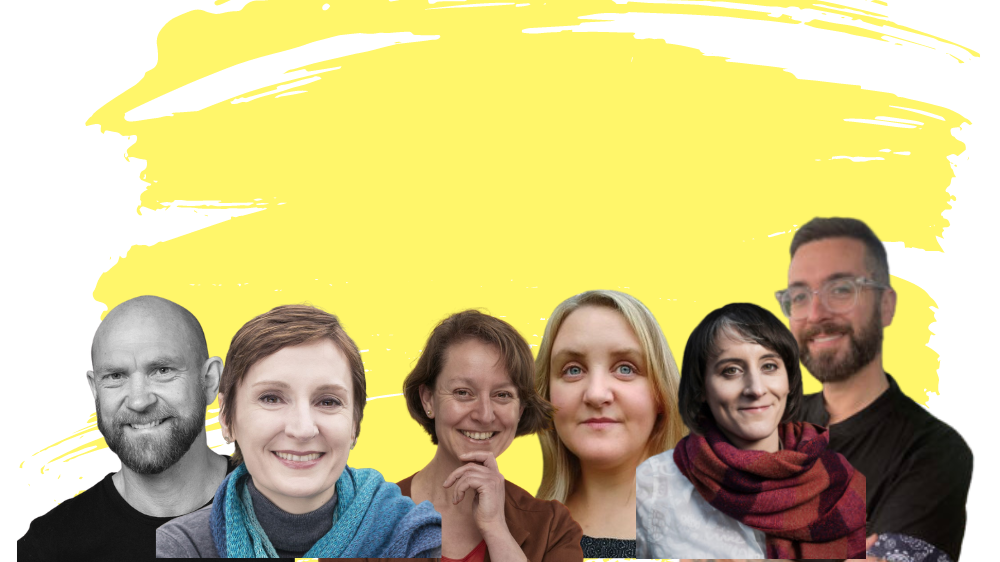 Why Adapt when you can create your own? In association with Animation Ireland
Join Tomm Moore, Nora Twomey, Gilly Fogg, Lorraine Lordan, Louise Bagnall  and Stuart Forrest, CEO of Triggerfish as they tease out the differences, challenges and joys between bringing your own work to the screen and adapting the work of others.
Speakers
Gilly Fogg

Gilly Fogg

Gilly Fogg is head creative at Lighthouse Studios, and when it comes to adaptations, she's in her element. Most recently, Gilly directed the adaptation of Cece Bell's bestselling graphic memoir, El Deafo, produced by Lighthouse for Apple TV+. Previously, Gilly directed the Bug Diaries series, an adaptation of the popular children's book series by Doreen Cronin and Harry Bliss, produced by Lighthouse for Amazon Prime. Gilly is currently working on the development of another children's book adaptation by Lighthouse for a major SVOD, as well as developing her own creative work.

Lorraine Lordan

Louise Bagnall

Louise Bagnall

Louise Bagnall is an Irish filmmaker and director from Dublin, who works at Cartoon Saloon in Kilkenny, Ireland. Bagnall wrote and directed the Oscar® nominated short animated film Late Afternoon. She has also directed several other shorts including Cúl An Tí, Loose Ends and Donkey. Besides directing, Bagnall has also worked as a character designer on Puffin Rock and The Breadwinner and as a storyboard artist on Wolfwalkers. More recently she has been an assistant director on Nora Twomey's upcoming Netflix feature film – My Father's Dragon. Bagnall is currently directing a feature film which is in development at Cartoon Saloon.

Nora Twomey

Nora Twomey

Nora Twomey is an ACADEMY AWARD® & GOLDEN GLOBE nominated Director. Nora is also Partner & Creative Director at Cartoon Saloon, Ireland.
In a career spanning over two decades, Nora has worked in a number of capacities on Cartoon Saloon's creative output. From the early years, directing award winning short films, she went on to co-direct Tomm Moore's The Secret of Kells while also guiding the development processes on a number of series including Puffin Rock and Dorg Van Dango. Nora was Head of Story on feature Song of the Sea. She directed The Breadwinner, which was nominated for an ACADEMY AWARD® & GOLDEN GLOBE and won several international awards including multiple Annies and the Audience & Jury Awards at Annecy. Nora has just completed directing My Father's Dragon, a feature film for Netflix about young Elmer Elevator and his adventures, inspired by the beloved children's book by Ruth Stiles Gannett.

Tomm Moore

Tomm Moore

Over Cartoon Saloon's history, Tomm has worked as Director, Art Director, Storyboarder, Animator and Illustrator across a range of the studio's projects . Tomm has directed 3 universally successful feature films. All three were nominated for Best Animated Feature at the ACADEMY AWARD® The Secret of Kells in 2010 and the spiritual follow-up, Song of the Sea in 2015. His latest feature film "Wolfwalkers" which he co-directed with Ross Stewart received several prominent critics awards including LAFCA Award and NYFCC Award as well as nominations for a Golden Globe and a Bafta and wins in several categories including Best Director and Best Independent Feature at the 2021 Annie Awards. He is currently working as a producer across several of Cartoon Saloon's new film and series projects as well as refocusing on his personal art training.